Digipigi proves instant hit for Credit Suisse
Credit Suisse's Digipigi is not only the first banking product based on the Internet of Things (IoT) technology worldwide. Digipigi is winning new clients for Credit Suisse and is playing a key role in financial education for kids as well as introducing children from the age of just 7 to cash displacement via its Viva debit card reports Douglas Blakey
Credit Suisse has a real winner on its hands with its new digital moneybox 'Digipigi'.
In the supposedly 'overbanked' Swiss market, Credit Suisse sold 10,000 Digipigi units within two months of launch with 60% of the clients being new to the bank, in turn increasing its market share by 50%.
It has always been difficult for parents to teach their children about managing money – especially now that money for the most part has gone digital.
Digipigi is a fun way for children to learn about cash and digital money. With the Digipigi Kids app children can easily set their own personal saving goals and record and track their savings whenever they want.
The accompanying Digipigi Parent's app also allows parents to keep track of all movements in and out of their children's accounts and moneybox. They can decide on their children's pocket money and transfer it directly online (parent app is linked to online banking) or pay it in cash.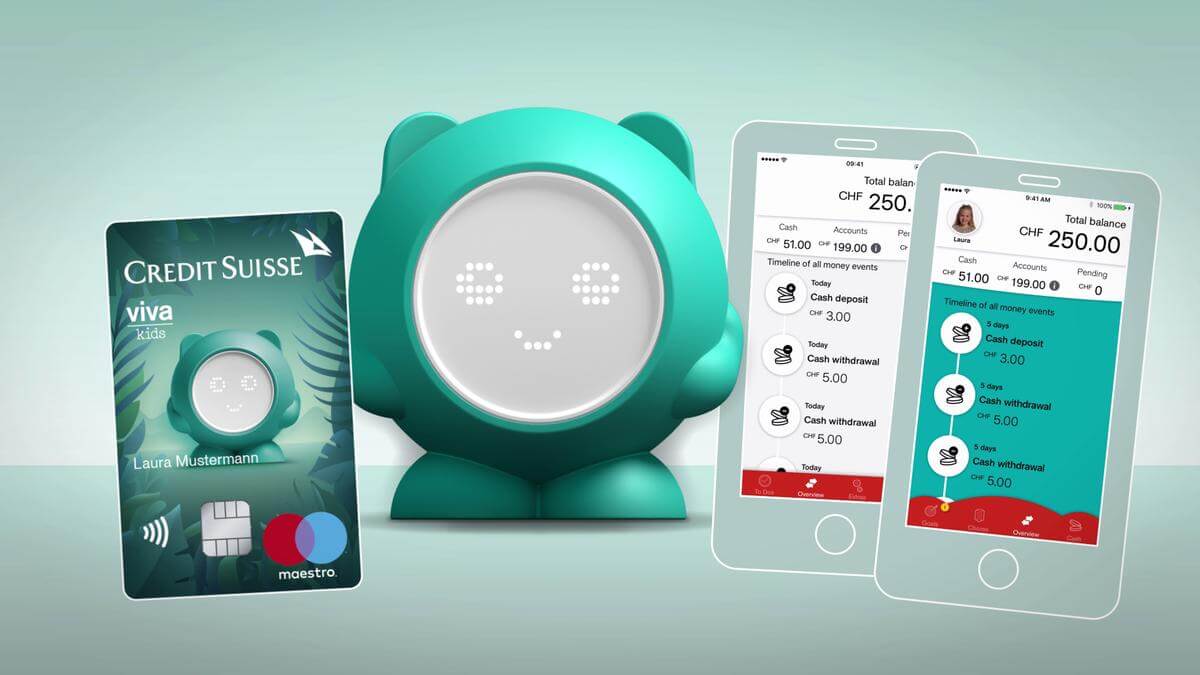 Chores and their associated rewards can also be entered in the app. This helps children to achieve their saving goals and gives them the sense that accomplishing their chores is bringing them closer to their saving goal.
The associated Maestro Card allows children to get little treats for themselves or withdraw a limited amount of cash from the ATM. Everything children need to learn about money. Digipigi also functions as a night light and alarm clock to help them through the day.
Credit Suisse is deservedly being acclaimed far from its Swiss home market for the way in which it is really supporting parents in teaching their children about money management in an interactive manner, fully supported by additional teaching materials and suggestions from experts.
Teaching kids about financial literacy has never been so easy and fun.
From the age of 12, kids can progress to the Viva Young Package offering a Maestro card with free ATM cash withdrawals. As an added benefit, Credit Suisse's Viva package includes Viva Movie Days.
Cardholders can attend the cinema any day of the week for CHF13 including popcorn and a soft drink.

DIGIPIGI KEY FACTS:
30 facial and sound expressions
Night lamp
Slot to store physical money
Watch and alarm clock
Name recognition of Digipigi over 60% in Switzerland