Revolut was launched by ex-finance professionals to enable customers to manage money seamlessly anywhere in the world. Before, spending money abroad had been a minefield of hidden charges and confusing rates. That's where Revolut came in, to do away with the overall hassle of managing a bank account abroad.
Promoting the headline 'Better than your bank,' the smartphone app launched its global service in July 2015 Revolut to support worldwide wanderers in their travels.
However, since then, the challenger has done much more. No stranger to embracing innovative technologies, Revolut is shaking up the banking industry in all the right ways.
Whether you are a critic or an advocate, cryptocurrencies continue to send shockwaves across the financial industry. Although the currencies are volatile, Revolut jumped on crypto train just two years after launching.
In December 2017, Bitcoin, Litecoin and Ethereum became available for Revolut customers to trade, hold and buy in all 25 base currencies Revolut offers.
Exchanges like Coinbase and eToro impose complicated fee structures when buying a cryptocurrency, usually involving multiple rates, deposit charges and hidden fees. Overall, this can potentially cost the customer between 5-9% mark-up on the average exchange price, whereas Revolut only charge 1.5% with no other hidden fees.
Stepping into the limelight where banks are cautious to go, Revolut had been planning its entrance into the crypto world for nearly two years prior to launching.
Bitcoin itself however, has had its fair share of critics. JPMorgan Chase CEO, Jamie Dimon has called bitcoin "a fraud." Philip Lowe, the governor for the Reserve Bank of Australia also dismissed Bitcoin calling the fascination with the cryptocurrency as a "speculative mania." For Revolut, the bubble isn't going to burst anytime soon.
CEO and co-founder of Revolut, Nikolay Storonsky takes a different approach towards cryptocurrencies. He views it as an opportunity. Furthermore, Revolut could provide a service that consumers desired and the feature took off quickly.
Now delving deeper, Revolut plans to entice more tech-savvy customers, by launching a debit card that gives users 1% cash back in cryptocurrencies. Customers will have to wait a little longer but plans are motion to launch this new feature in three months.
Revolut became the first digital bank to break even in December 2017. The app holds a wide range of products, including saving vaults, location-triggered travel insurance, but most innovative of all, virtual disposable cards.
Tackling fraud head on, disposable virtual cards destroy all card details after every transaction and new ones are automatically regenerated, adding an extra layer of security to the platform.
Users will be able to set up disposable virtual cards in seconds. When these cards launched, CTO and co-founder, Vlad Yatsenco highlighted:
"Instead of matching what the larger institutions are doing, we are changing the game entirely by introducing disposable virtual cards. It will take approximately 800 years before we begin to run out of 16-digit card numbers, so we view disposable virtual cards as a sustainable, long-term solution to tackling online card fraud.
Unfortunately, at the moment the disposable cards are only available for premium customers.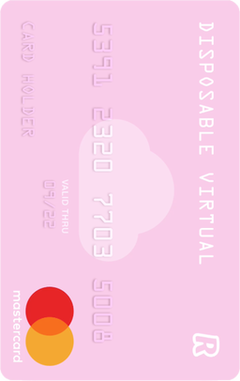 Joining the Unicorn ranks
Revolut joined the ranks of unicorn firms with a $1.7bn valuation after raising $250m in a 'Series C' funding round, less than three years after launching.
Revolut states it has around 250,000 daily active users. Continuing to set high targets, it aims to get 100 million active users within the next five years.
Although there is stiff competition from the likes of Monzo, Revolut isn't slowing down and will be using the funding to expand internationally.
The unicorn has enjoyed rapid growth in both product range and user volume. Revolut doesn't bother with fancy advertising, they let the products and services do the talking.