The three myths of mobile wallets
Worldwide, there are currently over 2.3 billion smartphone users, potentially reaching over 2.8 billion by 2020. If mobile wallets are to leverage this high penetration, they will need to offer consumers more than just a payment service. Particularly, consumers need to be aware of mobile wallet security.
Smartphone penetration (per 100 people) is high among European consumers generally, with values ranging between 56.09 in France and 91.33 in Norway according to GlobalData's Macroeconomic Indicators database.
A report from App Annie in 2017 showed that smartphone users now access over 30 apps on a monthly basis, with the average smartphone owner using at least nine apps per day.
Despite the mobile app boom, mobile wallet apps have so far proved to be of little interest to European consumers. This is due to a few outstanding myths about the solutions. These myths, as myths often are, hold no basis in fact.
There's nowhere to use mobile wallets
Only 22% of consumers in European markets own a mobile wallet – and under half of those mobile wallet owners used their wallets at the point of sale in 2017, according to GlobalData's 2017 Consumer Payments Insight Survey. There are numerous reasons why consumers choose not to use mobile wallets to pay for their items, including security concerns, lack of knowledge about wallets and where to use them, and simple disinterest or dislike.
Making mobile wallets more visible to consumers is as important as becoming more widely accepted among retailers.
Although mobile wallets provided by banks will generally present more security for consumers, there are various payment and financial services companies that can deliver the same products to similar standards. Moreover, mobile wallets shouldn't necessarily specialise into one service (POS payments) but look to offer a variety of extra services which could potentially attract more users.
When thinking of a mobile wallet, minds don't immediately jump to Apple Pay. However, that's exactly what Apple Pay, Google Pay and Samsung Pay are.
These payment methods are accepted in multiple locations across the globe at point-of-sale. Apple Pay alone is available in the U.S.A., U.K., Canada, Australia, Brazil, UAE, Russia, China, New Zealand, Singapore, Japan, Taiwan, and Hong Kong, as well as various other European countries.
Mastercard highlight (The Brit Awards)
Kirsty Redfearn, Mastercard: We've been sponsoring the Brit Awards for 20 years and this year was quite an occasion. We've been trying hard this year to build an integrated campaign that connected some of the dots in the Brits ecosystem, such as the Brit school and the charities that the Brits works with. We worked with David Arnold, a famous composer, who composed a track for us which we could then illustrate and create an experience where music brings people together.
We've had some wonderful responses and it even had around 99% sentiment response and, for most brands, that's an unheard of space.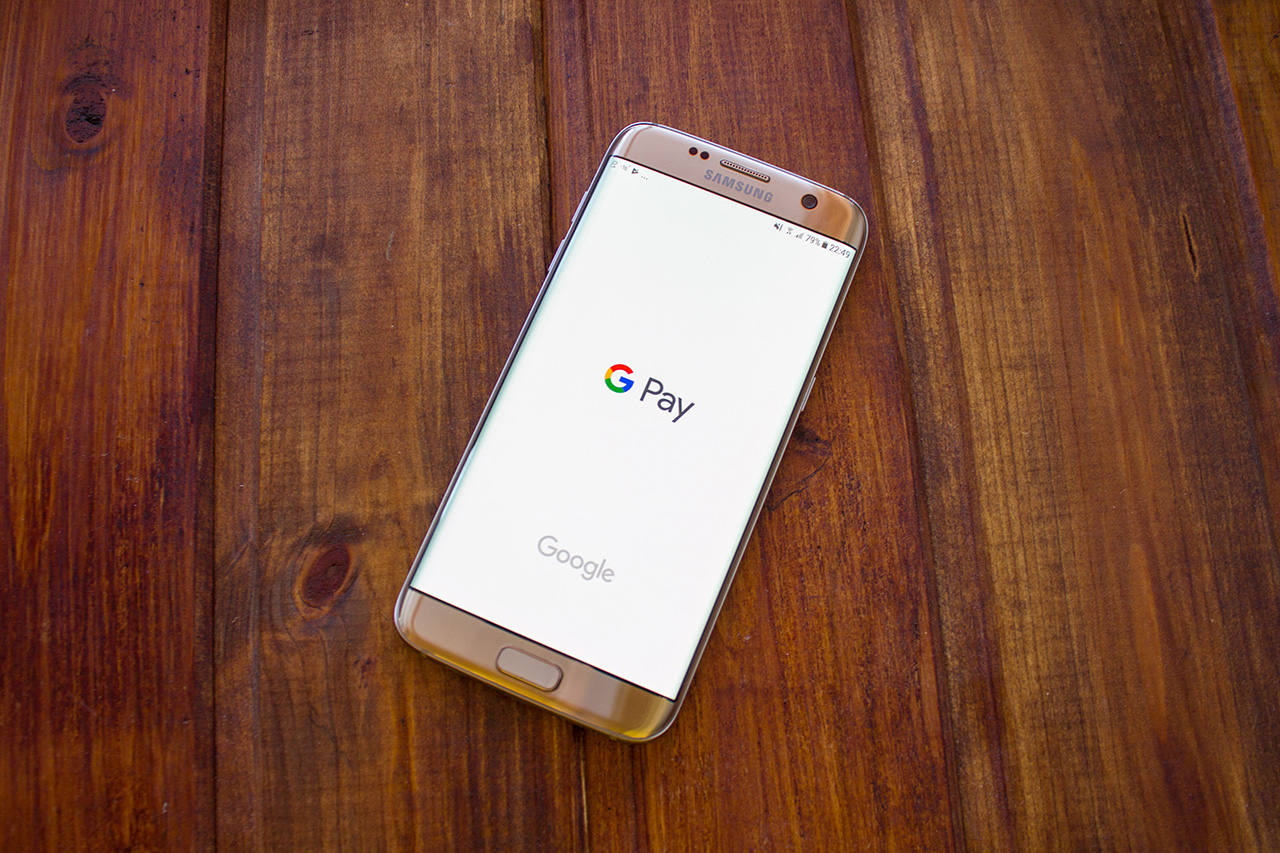 People are not interested in mobile wallets
Over half (54.2%) of European non-wallet users said they simply don't like the idea of using their phone to make payments, while 42.8% admitted they don't know where they could make a mobile payment.
A minority of European consumers would like to get a mobile wallet, this option being quoted by 15% of non-users.
At the same time, more than a third of non-users (36%) would use a mobile wallet if it offered loyalty benefits.
Therefore, wallet apps can potentially attract new users if they offer more than just the ability to make payments.
There are examples of mobile wallets taking a sizeable chunk of market share. Contrary to most European markets, Denmark has a significantly higher proportion of mobile wallet users (28%). That is because MobilePay (a mobile payment solution) has been so well received by consumers and retail businesses.
Initially launched as a money transfer app by Danske Bank, MobilePay has expanded to offer other services, including online and offline P2P payments to friends, family, and even merchants. MobilePay has successfully been integrated into Danish society and is supported by major payments schemes as well as by more than 60 trusted bank brands, giving the service a high level of perceived security among consumers.
MobilePay initially grew out of a P2P-only payment solution and then expanded to become fully integrated in everyday activities (transportation, online and offline shopping, payments to friends and family). This shows that a successful mobile wallet should be more than another point of sale solution in order to compete with already well-established cards.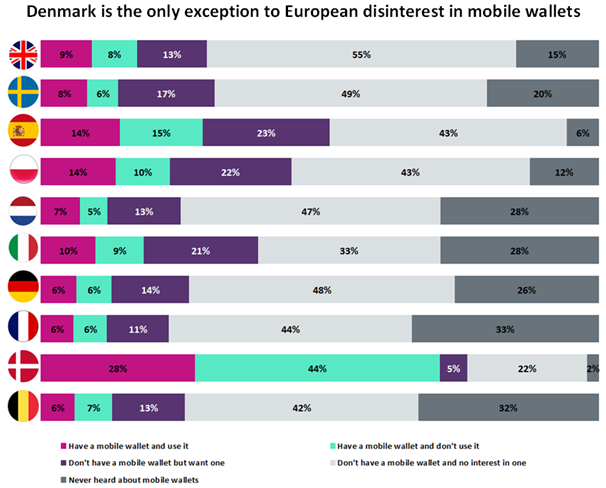 Visa highlight (The Winter Olympics)

Adrian Farina, Visa: Generally we use our sponsorships as a backdrop for the benefits that Visa brings to consumers, an approach that we took during our recent contactless campaign around the Winter Olympics. This global campaign was fully integrated across our social and digital channels and saw us working closely with our Team Visa athletes (individual Visa-sponsored athletes from a range of national teams) who were able to amplify our campaign through their personal social media channels.
Our cross border campaign last summer consisted of a series of short videos designed to encourage travellers to consider the benefits of using their card abroad instead of cash. We were able to use our social media channels to deliver these videos to travellers journeying between Europe and America, serving the right message to the right traveller when he or she was most receptive.
Mobile wallets are not secure
However, the biggest single reason European consumers don't or have no desire to use wallets is concern over what would happen to their payment details if their phone is lost or stolen (72.2%).
In the UK, it is an even bigger percentage at 73% of consumers worried about what would happen if their phone was lost. Only 12.1% were not worried about this. As a result, 66.1% of UK customers do not like the idea of paying with their phone.
Clearly, there is a lot of insecurity when it comes to using and storing payment details on a smartphone, but this could potentially change if consumers become more aware of the security of wallet apps.
This comes down to explaining tokenisation to consumers. In tokenisation, no details are actually saved or transferred. To put it another way, instead of storing card details, mobile wallets such as Apple Pay generate virtual account numbers while a unique dynamic security code is generated for each transaction; no traceable credit card numbers are stored by the retailer or by the wallet or smartphone.

For additional security, transactions are authorised with Touch ID or a PIN number.
So, in order to boost consumer engagement, mobile wallet providers should aim to increase consumer awareness on how convenient and secure mobile wallet apps can be. Dispelling these myths is crucial to the widescale adoption of the payment option.

While Apple Pay, Google Pay and Samsung Pay are not going anywhere, they should be going somewhere a lot faster.